News 2013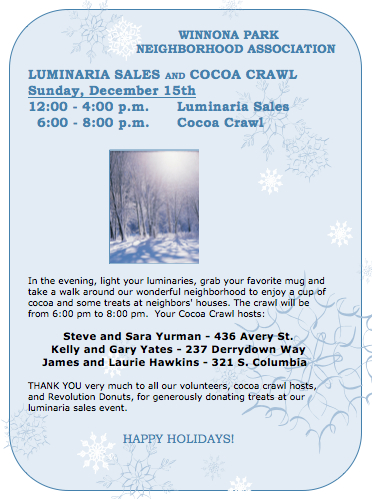 -----------------------------------------------------

Coyotes in the Community - A Presentation by John Eberhart, Member, Wildlife/Wildlands Committee of The Sierra Club GA Chapter


WHEN: Wednesday, August 28, 2013
TIME: 7:00 p.m.
WHERE: Winnona Park Elementary - Cafe
Coordinators: Sonali Saindane; Greg Wiseman

John Eberhart has worked in wildlife preservation for 30 years and helps communities resolve conflicts that occur with wildlife peacefully based on best practices. Some of the topics that will be covered:


Basic coyote natural history.
Why are coyotes here?
Coyotes WANT to be good neighbors and go out of their way to avoid us. What are some simple things we can do so coyotes will continue to be good neighbors?
What happens if a coyote is removed from its habitat?
What to do if you see a coyote?

The event is FREE and open to all neighboring COD communities. Please R.S.V.P. attendance to: sonaligokhale@yahoo.com by Monday, August 26th. Thank you!



-----------------------------------------------------

Community Meeting Follow-up

The Winnona Park Neighborhood Association hosted a Community Meeting on Tuesday, July 9, 2013 at the Decatur Active Living Center. The meeting focused on the recent spike in burglaries within the community and surrounding areas from May 30 - July 8 as well as robbery and carjacking instances. In a nearly unprecedented collaboration it brought the City of Decatur Police Dept., the City of Atlanta Police Dept. and the DeKalb County Police Dept. together with the Winnona Park community.

At the meeting police recapped all burglary instances within that given time frame. Of note is that they had occurred during the day and all but one occurred when no one was home. Items being taken are mostly TV's, camera equipment, laptops, guns and jewelry. Entry into the home is typically gained through the back door where they can be hidden from view and the front door and windows where shrubs are large, overgrown and can provide some camouflage.

Police strongly encourage everyone to make note of all serial numbers from their electronics and to take photos of jewelry and items without serial numbers. Should you be a victim of a burglary taking these steps can help in cross checking against a local and national database of recovered items. Without the numbers or photos your items could be recovered but may never get cross-referenced and returned to you. Also, please note that if you have 'Find My iPhone' type apps on your phone please WAIT until you are with the police before activating the application. Apparently, notifications are/can be sent to the phone which is not helpful when a theft has occurred.

The burglaries seem to be related to a significantly higher number of similar incidents in DeKalb County and the City of Atlanta. All three jurisdictions are working on a coordinated approach.

Decatur Police Chief Mike Booker stated, "We are meeting and comparing information on a daily basis with both DeKalb County and City of Atlanta officers working the cases." In addition to the regular City of Decatur patrol shifts of five officers, the City has called in additional off-duty police officers and re-directed officers to assignments related to addressing the current situation. Officers are using marked and unmarked cars. In addition to responding to all burglaries and processing all latent prints, the police are using the GBI sketch artist.

They discussed a recent carjacking and provided some tips on how to react if you feel you are being followed. These can be reviewed online via the Decatur Metro

Also, discussed were several ways we as a community and as individuals can help. Several informational handouts were provided and are accessible below.

Of note especially during this summer season is the "Out of Town House Check" provided by the City of Decatur Police Department. You can provide your information to the Decatur Police and they will routinely check in on your house while you are away. Please contact the non-emergency number at 404-373-6551 to request this service.

The meeting ended with a question and answer session.

The Decatur Police encourage the community to call if they see any suspicious activity. The non-emergency number is 404-373-6551. If you believe you are witnessing a crime, or have an emergency, dial 911.

"The best thing is to be as observant as possible. I tell everybody, we don't expect citizens to be police officers, we expect them to be the best witnesses they can be," Decatur's Deputy Police Chief Keith Lee.

Neighborhood Watch: The Winnona Park Neighborhood Association is hoping to "shore up" its' neighborhood watch program. If you are interested in knowing more about the program or participating please contact board@winnonapark.org.

Join the WPNA: If you would like to join the Winnona Park Neighborhood Association in an effort to support these and other activities please fill out and mail the membership form.

Safety Tips

-----------------------------------------------------

Community Meeting Tuesday, July 9 at 7:00 P.M.

A Winnona Park community meeting will be held on Tuesday, July 9th, at 7:00 p.m. at the Decatur Active Living (DAL) facility located at 231 Sycamore Street. The meeting will be in Studios A and B.

Sgt. Jennifer Ross with the City of Decatur Police Department Criminal Investigations Unit will be on-hand to present accurate and up-to-date information regarding the recent break-ins and burglaries in the WP and surrounding areas. Sgt. Ross will answer questions and also provide safety tips and advice to our residents. In the interim, please see the attached "Community Alert" bulletin issued by Chief Booker and his staff. Any questions regarding the attached information and recent criminal activity in our area will be answered at the community meeting.

Please plan to be on time as we anticipate the exchange of much information as well as many questions from residents. As time allows, we would like to have a resident safety prevention professonal, Duncan Cottrell, provide information and to answer safety prevention questions. Mr. Cottrell has provided helpful information on the list-serves regarding safety prevention. If you are unable to attend the meeting or wish to contact Mr. Cottrell directly, please contact him at: Duncan Cottrell, The Entry Enforcer, (404) 289-6920 / (770) 720-6269 cell.

All residents and interested parties are welcome to attend. We hope to see you there.

Winnona Park Neighborhood Association


-----------------------------------------------------

April 23, 2013


Dear Winnona Park Neighbors and School Community,
Balancing the needs of Winnona Park Elementary School students with those living in the surrounding community has sometimes been a delicate endeavor regarding the schoolyard and its facilities. After school and on weekends, the Winnona Park schoolyard transforms into a green space for the neighborhood. The fact that our neighborhood has no city park like other Decatur neighborhoods has influenced me to take a softer stance on its usage during school hours. However, recent events have prompted the Superintendent and me to re-examine how we allow access to the field while school is in session. Effective immediately, the following practice applies to the Winnona Park schoolyard and its facilities on the campus during school hours:
Adults, children and pets not employed or attending Winnona Park are not admitted on the schoolyard when students are present anywhere outside during school hours.
Therefore families can take advantage of the schoolyard when no students are visible, but if students come outside, families will need to vacate the school property. The overall reason for this clarification is to ensure the safety of the students. New signage will be put in place in the near future to further communicate schoolyard rules and expectations.
Unfortunately I cannot provide exact times the schoolyard is not being used by students and to be honest teachers and students are on the campus grounds a lot. School hours are 8:00AM to 2:30PM. Recess generally begins at 10:15 for a few classes and continues until 2:00 for others. For the remainder of the school year P.E. runs from 8:30 to 2:15 on Tuesday, Wednesday and Friday, but does not start until noon on Monday and Thursday. However, there are days and times when classes may be engaged in learning activities on the school grounds at various times.
Thank you for your understanding in this matter.
Sincerely,
Gregory Wiseman
Principal, Winnona Park Elementary School